Byron Financial Group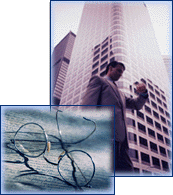 Byron Financial Group is a financial services firm in the State of Idaho. Formed in 2000, Andrew D. Byron founded the company for the sole purpose of providing objective financial advice to individuals and businesses to help them work towards their long-term financial goals.
Our firm provides educational programs to large corporations, private businesses, organizations and associations for their employees and members, and one-on-one instruction.
The financial ratios that help measure an organization's performance may also be used by potential lenders and investors. Learn more.

Even if you and your spouse have separate retirement accounts, you may still be able to craft a unified savings and investment strategy.

Tips to help balance the competing demands of saving for retirement and providing financial support to adult children and aging parents.

Discover how to give a substantial gift to a favorite charity while receiving a flow of income during your lifetime.