Byron Financial Group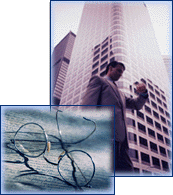 Byron Financial Group is a financial services firm in the State of Idaho. Formed in 2000, Andrew D. Byron founded the company for the sole purpose of providing objective financial advice to individuals and businesses to help them work towards their long-term financial goals.
Our firm provides educational programs to large corporations, private businesses, organizations and associations for their employees and members, and one-on-one instruction.
ETFs have some attractive features that set them apart from mutual funds, but there are also cost and risk factors to consider.

Cash balance plans can be a powerful tool for employee recruitment and retention, plus they have generous contribution limits that increase with age.

Cloud computing functions could help small companies increase productivity with smaller up-front costs.

An overview of the tax changes affecting corporations and pass-through businesses and the potential implications for GDP growth.
Estimate the annual required distribution from your traditional IRA or former employer's retirement plan after you turn age 70½.

How much will it cost to pay off a loan over its lifetime?

How much would your monthly lease payment be?

Estimate the future cost of an item based on today's prices and the rate of inflation you expect.