Byron Financial Group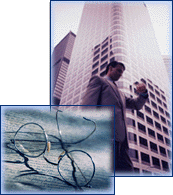 Byron Financial Group is a financial services firm in the State of Idaho. Formed in 2000, Andrew D. Byron founded the company for the sole purpose of providing objective financial advice to individuals and businesses to help them work towards their long-term financial goals.
Our firm provides educational programs to large corporations, private businesses, organizations and associations for their employees and members, and one-on-one instruction.
Understand the rules and deadlines for the estates of recently deceased taxpayers when seeking portability relief.

One change made by 2017 tax legislation, a new way of measuring inflation, may have a significant effect on individual taxpayers over the long term.

How the Federal Reserve's monetary policies influence interest rates, economic growth, and inflation.

A look at the relationship between oil and gas prices, and how global factors have driven up prices at U.S. fuel pumps.
Compare the potential future value of tax-deferred investments to that of taxable investments.

How Long Will It Take to Pay my Balance?

Use this calculator to determine whether you qualify for the different types of IRAs.

This calculator can help you determine how soon you can pay off your mortgage.