Byron Financial Group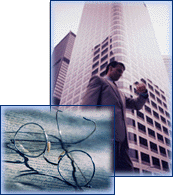 Byron Financial Group is a financial services firm in the State of Idaho. Formed in 2000, Andrew D. Byron founded the company for the sole purpose of providing objective financial advice to individuals and businesses to help them work towards their long-term financial goals.
Our firm provides educational programs to large corporations, private businesses, organizations and associations for their employees and members, and one-on-one instruction.
This article outlines three defensive strategies that may help during economic downturns: low-volatility, dividends, and defensive sectors.

This article focuses on the potential short- and long-term tax ramifications of a Roth IRA conversion.

This article presents some steps employees can take to get the most out of their employer-sponsored retirement plans.

This article outlines four elements of financial well-being and offers suggestions to strengthen financial wellness.
Use this calculator to determine whether you qualify for the different types of IRAs.

Use this calculator to estimate the federal estate taxes that could be due on your estate after you die.

How much would your monthly lease payment be?

Calculate the rate of return you would have to receive from a taxable investment to realize an equivalent tax-exempt yield.